C&W | Rekordní objem pozemkových transakcí přesahujících hodnotu 1 200 000 m²
30.08.2023 v 12:42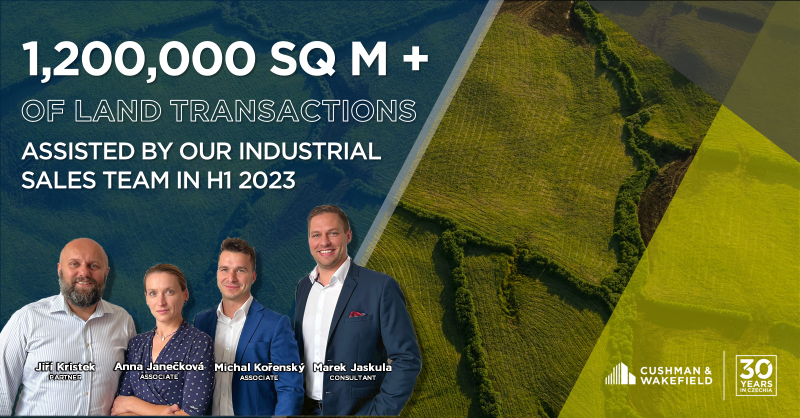 CZ: V prvním pololetí roku 2023 jsme dosáhli historického úspěchu: náš tým pozemkových specialistů realizoval rekordní objem transakcí přesahujících hodnotu 1 200 000 m² greenfieldů, brownfieldů a stávajících areálů.

Jiří Kristek, Michal Kořenský, Anna Janečková, Marek Jaskula svým profesionálním přístupem podpořili naše klienty v automobilovém, elektrotechnickém, logistickém, investičním a developerském sektoru v budoucím růstu a dosažení jejich dalších byznysových cílů – a potvrdili tak naši pozici důvěryhodného partnera poskytujícího kvalitní odborné služby na trhu komerčních nemovitostí.

ENG: In H1 2023, we've achieved remarkable success: our Industrial Sales team brokered a record-breaking volume of land transactions, securing the transactions of an impressive 1,200,000 sq m of greenfields, existing premises, and brownfields.

Jiri Kristek, Michal Korensky, Anna Janeckova, Marek Jaskula applied their professional expertise in supporting the future growth of our clients in the automotive, electrotechnologies, logistics, investor, and developer sectors, helping them achieve their business goals – thus confirming our position of a reliable partner providing high-quality professional services on the commercial real estate market.